Earn benefits at Andes Cafe
Earn benefits for every dollar you spend at this location and thousands of other restaurants, bars and clubs.
Description:
Hand-crafted meals and coffees celebrating the food, culture and art of South American countries is what you'll find at area favorite, the Andes Café. With a comfortable and casual vibe, this eatery is open daily for breakfast and lunch, as well as dinner on Friday and Saturday evenings (closed on Sundays), which makes it the perfect choice when craving a flavorful and high quality meal. Head over for desayuno and fill up on Cachapas, Huevos con Tomate or the Tomalitos Verdes. Like every dish on the menu, the country of origin is listed beside it, so you always know where that particular regional specialty is from.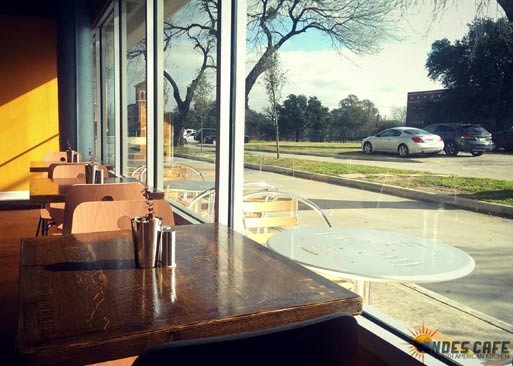 For lunch and dinner, try small plates like the Empanadas de Morocho or the Tamale Puerco, and for a heartier meal, try signature dishes like the Lomo Saltado, Pollo a la Brasa and of course, any of their outstanding ceviches. Enjoy a specialty coffee with your meal, try one of their fabulous juice combinations from the juice bar, or BYOB and enjoy a truly special meal. With a warm welcome, friendly service and outstanding Latin cuisine, Houston's Andes Café can become your new favorite as well!